For a peaceful weekend break, or a cosy retreat when working away from home.
Glencoe House is a Victorian terraced house on Anglesey Road in Burton upon Trent, Staffordshire. It's in an ideal location for getting around: the railway station, bus stops and town centre are just a 15-20 minute walk away, and a newsagent's shop and chippy are nearby.
Walkers and cyclists are welcome. Glencoe House is just a 10-minute walk to the Washlands, with footpaths throughout the floodplains along the River Trent. Burton is at the heart of the National Forest, and just south of the Peak District. The National Memorial Arboretum is a short drive away.
(During the pandemic, the opening hours/days of some of the following venues may have changed -- check with them before making plans.) The National Brewery Centre and Marston's Brewery both offer tours; and it's worth checking what's on at the Brewhouse Arts Centre, especially their one-night-only touring performances. Burton Albion's football grounds are nearby, and St. George's Park is not far (about a 10 minute drive).
We offer a double en suite room overlooking the back garden, and a twin room (not en suite) overlooking Anglesey Road. (Nb Our single guest room is no longer available. And during the pandemic, our Twin Room is unavailable.) There is a guest lounge with TV and wifi, and there is parking for one vehicle. Your host, an experienced home cook and cookery writer, will happily cater for special diets. For more details . . .
FYI: Glencoe House, we're told, originally began life in the early 1900s as a small neighbourhood bakery. You will still find homemade bread here: seeded soda bread made by Dee here at Glencoe House, and — when Dee can make it to Stone or Stafford or Penkridge market, she returns with a trolley full of excellent yeast breads made by baker and jam-maker Diana Smith. When she can't make it to those markets, she trundles to Derby for sourdough breads, made at The Loaf in Crich. The breads served at Glencoe House are proper breads; Chorleywood they are not.
A note to cat lovers . . .
The Wallace, our much loved ginger tabby (pictured below), died in January 2019. He had been ill for a very long time.
Wallace remains very much missed.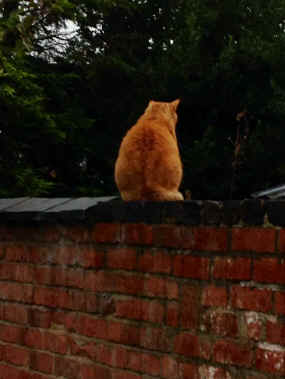 - The Wallace -
2003 to 2019

Prior to the 'Lockdown' announced on 20 March 2020, Dee had been looking after two diabetic cats: brothers Jake and Wilbur. They stayed with her every other fortnight, and with their owner, Andrew, on the alternate fortnights. On the 15th
of March, Andrew dropped the cats off here for another fortnight's stay but due to Lockdown, that fortnight had no end. The cats remained here and have been lovely company, and have not outstayed their welcome. But sadly, on 19 July 2020, Wilbur passed away. He is missed by all who loved him, not least by Jake.
Covid-19 precautions at Glencoe House B&B:
--------------------------------------------------------------------------
DECEMBER 2020-JANUARY 2021 UPDATE --------------------------------------------------------------------------
We have closed until further notice.
The number of coronavirus cases have risen rapidly.
At the same time, two mutations of Sars-Cov-2 are in Great Britain. We don't know whether our current vaccines will be effective against the latest mutation so Glencoe House B&B is closed for the time being.
We will reopen when we deem it safe to do so.
We are sorry for any inconvenience.
For the number of positive Covid-19 cases to drop, we must all assume we have the virus, and behave with the utmost cautions.
Covid-19 is spread primarily through the air.
I use every means available to prevent catching it.
When I'm indoors with another person, I combine as many of the following precautions as possible:

-- FRESH AIR: open a window (or door) -- despite the cold air;
-- TIME: limit my time with the person I'm with to a few minutes rather than 15 minutes or more -- if necessary, we leave the room, let it air, and resume our talk later;
-- PEOPLE: I limit the number of people in the room with me to two (less chance of being exposed to someone who has the virus -- or exposing them, if I have the virus);
-- MASKS: I wear a mask indoors as does anyone indoors with me;
-- DISTANCE: I keep 6 feet distanced from others
(Try measuring it; I bet it's further than you think.)
The more one does to minimise their 'viral load' (ie, the amount of virus to which one has been exposed), then the milder their virus will be should they catch it. In other words, if someone in the room with you has the virus, and you do one of the things listed above to help protect yourself (such as wearing a mask), and you contract the virus from them, then the virus you contract should be a milder form of that virus than if you hadn't worn the mask.
And if you do two or more of the above things (such as mask-wearing, opening a window, being together for just minutes), then that's even more protection.
Whilst this virus is circulating and infecting people, I'm doing my best to learn how to protect myself. I want to avoid at all costs having to be in hospital, so I do everything I can to ensure any virus I might catch is the mildest form possible. I recommend the following article.
Avoiding Covid-19 — some very helpful info:
A friend recommended to me this article from El País — A Room, A Bar and A Classroom: How the Coronavirus Is Spread Through the Air.
It illustrates very well which things are most important to do in order to avoid airborne exposure to this virus (and to avoid spreading it yourself)
Here's the link:
https://english.elpais.com/society/2020-10-28/a-room-a-bar-and-a-class-how-
the-coronavirus-is-spread-through-the-air.html
--------------------------------------------------------------------------
Once the 'R' value has dropped to something acceptable (below 1), and the restrictions in Burton have lightened, then that's when Dee can look forward to welcoming you again. But there are some changes to how we operated before. Whilst we're in this pandemic, here is how we are doing things:
We've had two Lockdowns so far:
The big one that started towards the end of March 2020 and finished around June/July.
And 'Lockdown Lite', from 5 Nov. to 2 Dec. 2020.
And now . . . Burton is in Tier 3:
But see above for the current situation.
Tier 3 restrictions state that B&Bs should only open for those who have to travel to Burton for work purposes, and that this work is work they could not do remotely (i.e, from home). We, however, have closed until further notice.
For more info on Tier 3 restrictions, here's the link:
https://www.gov.uk/guidance/local-restriction-tiers-what-you-need-to-
know#very-high-alert
Once we reopen, all bookings must be pre-booked
(See Contact Us page)
This is in order to allow a space of 3 days (72 hours) between bookings. The virus is expected to be inactive on surfaces after 72 hours and although we clean fairly thoroughly, we won't know everywhere in the house that someone has touched. The 72-hour buffer is to ensure maximum safety for those who stay here.
(Nb: This 3-day-buffer practice will continue even after Covid-19 is deemed to have been contained.)
Once we reopen, only one room will be available
(to enable social distancing)
The Double En Suite Guest Room will be available then — BUT check above to see if your stay would be permitted under any current restrictions .
(See Availability page for available dates to book)
The Twin Guest Room will not be available until after the Covid-19 virus has been contained.
Covid-19 Contact Log
This Log is for recording the names, addresses and phone numbers of each person staying here during the pandemic. This is so that, should we learn that someone who's been here during your visit has tested positive for Covid-19, we can then contact you. The person testing positive could be a workman making repairs here during your stay, it could be the manageress of Glencoe House, or it could be you (in which case, please let us know). So to help contain this virus, every guest must enter their details into this log in order that they may be contacted.
NB: Your details will not be shared with anyone, and will not be used for any purpose other than contacting you regarding Covid-19 exposure.

last updated: 24 December 2020